Everyone keeps asking me what it's like to go through an accelerator program. I got asked after we graduated from The Founder Institute, and I've gotten asked repeatedly as we've been going through TechStars.
The long answer is below (as best I can put to words)…but the short answer is:
You can't describe it with words.
That should make this an interesting post, 'eh?
Bryan and I have always wanted to get into a TechStars program, and when the Microsoft Accelerator came along…wouldn't couldn't resist applying (TechStars runs the program for Microsoft).
My company, Embarke, is next-generation analytics for messaging. We increase engagement and revenue for marketers with 15 minutes of integration and a simple click of a button. We automatically deliver messages when each individual user is most likely to engage, and with content they actually care about.
We were NOT that company when we entered the program.
The program was up in Seattle, so my co-founder Bryan and I left our families behind for 3.5 months. Bryan had 3 kids under the age of 10 he'd never been apart from for more than two days! We also left our 3-man team of rock-star developers in San Diego. It was impossible for even those we speak with daily to follow along with the insane pace of learning, growth and change we were moving at. We regularly crammed 3 days of business into a single day. Our moods and enthusiasm shifted constantly, the direction we were taking Embarke was akin to a ping-pong ball bouncing jerkily past the hundreds of Plinko spikes of opportunity.
We met with more amazing people than I can even count. Hundreds, literally. Many were mentors that are intimidatingly successful and miles ahead of where we are as entrepreneurs. Others were potential customers at companies that we would have struggled to get access to on our own. Yet there we were, meeting with CXOs and talking strategy, business, future, deals, and everything else as if we were peers. Every day. Multiple times per day. I expect many of the friendships and relationships we've built through this program to last a long time, if not a life time.
We knew we had a good business…
but it wasn't good enough.
Whenever we spoke with family or our team, we were off on a new exploratory tangent as we dialed in what Embarke was going to be. Our family and even teammates thought we were insane. How could they possibly be talking about this, when we just talked about that yesterday?! See, we came into TechStars with a business: We had a live product, we had customers, we were moving forward and getting great traction and publicity. We had a good business. Within just a couple of weeks, we knew it wasn't good enough. We wanted to build a great company, and had to figure out our path to that goal.
This was not easy.
Much like this article – you can't describe it in words, or over the phone. You have to experience it. I recommend any serious entrepreneur should go through a program like this. It will forever change you.
Thankfully, my wife came up a couple times and two of our developers made the trip up for a week each…so they got to see the awesomeness of the insanity first hand! Phew. We're not crazy, they get it now…because they got the opportunity to live through it for a few days.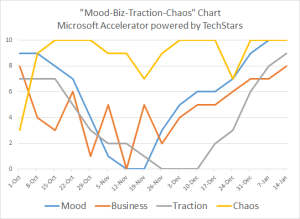 Throughout the program I took various notes and actually graphed a few metrics such as:
Mood – How was I feeling, both mentally and physically?
Business – Was it defined? Do we know who we are?
Traction – Who are our customers? Do we have any?
Chaos – How crazy is the program right now? (Crazy = Good!)
Enjoy the graph, and make your own assumptions about it! It's pretty clear that the program ramped up quickly and never really slowed down. It's also clear that our business concepts changed dramatically during the early stages of the program. We ran down ideas and theories, tested and validated them as quickly as possible…thus the spikey-ness of the graph. As stated, we had customers coming into the program, but over time they became less of our focus…even though the new business model is a good fit for them.
The point at which we realized that our existing customers might not be our long-term customers
…was an eye-opener.
The most dramatic shift, however, was my overall mood and emotional state. There was a pretty serious dip in the middle as Bryan and I pressed ourselves to find a better business opportunity. Our mentors pushed us to dig deep, take big steps backwards, look at what we care about, and drive towards finding a big opportunity. There were days where I wondered if we'd ever figure it out. We knew we had a good business to fall back on, but that simply wasn't good enough for us. We wanted more, and we were struggling to find it.
Bryan and I have known each other for almost two years now, and in this time we have always been able to come to terms with disagreement…even when it's become heated. We've always had the ability to step back and go down the correct path…regardless of who was right or wrong in the debate. We're driven, but not so egotistical that we can't admit we might be wrong. This middle point in the program was, by far, the most challenging time for us in our relationship as co-founders.
We struggled to agree, we argued a lot, and we challenged ourselves to find validation for our visions.
It was dark and gloomy in entrepreneurial land! Welcome to running a startup at light-speed. Hell, welcome to running a startup at all. The only difference here is that the highs and lows are hourly instead of weekly! <laughs> This is the life we chose. This is why we've chosen to put ourselves through the accelerator programs we have.
As my wife would say, "This is the box you checked."
We kept driving. We kept pushing. We kept searching, testing, and validating. We managed to pull through it and come out on top with an amazing business, customers that are begging for our product, and a deep partnership with SendGrid. In 108 days (including holidays), we managed to cram in at least 365 days of work, effort, and execution. 16-hour days, nearly every day, including weekends…and holidays. Intense mentorship and customer development…and we are much better entrepreneurs because of it.
They don't call it an accelerator for nothing.
…and wow, they weren't kidding.

In the 5 short weeks our product has been live, we're processing 25M user actions (opens and clicks) per month and have created over 650,000 user profiles. Those numbers are increasing rapidly, and the product is already built to handle 40 times this volume.
I can't even fathom where our company would be today without the program. If you're a serious entrepreneur, just apply to an accelerator like TechStars. Don't hesitate. It's an experience you will never forget, you will grow as a person and entrepreneur, you will build new relationships that you never dreamed, and you will have a jump start on building an enduring and profitable business.
To finish up, I'd like to thank:
Our Families for putting up with us being gone for nearly 4 months and supporting us on such an amazing journey.
Microsoft for sponsoring such an amazing program and giving more than they got.
The TechStars Team for running the past 3.5 months like a well-oiled machine.
The amazing Mentors who kept us on track…but derailed us when necessary!
Our Customers and Partners for going above and beyond with us, and helping us succeed.
…and all of our peers in the program. Amazing Entrepreneurs building Amazing Companies, and I look forward to deepening our friendship and camaraderie through our entrepreneurial adventures! Be sure to check out these companies…
They're ALL the real deal:
Appetas | BagsUp | Embarke | Fanzo | Keebitz
MetricsHub | Mobilligy | Realty Mogul | Socedo | Staq